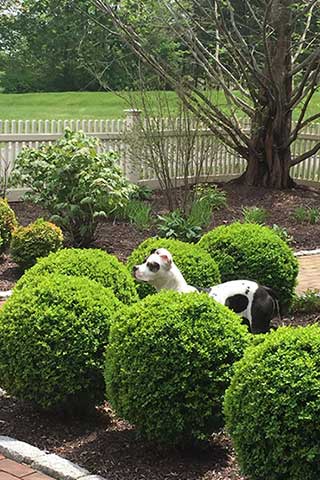 Safe for plants and animals.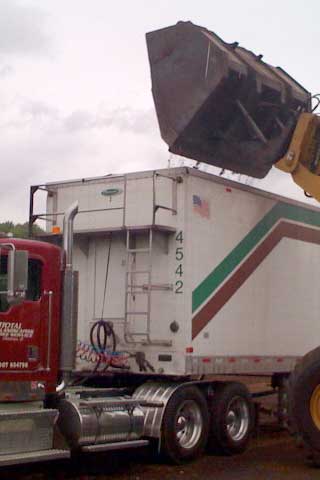 A 65 cubic yard bulk order being prepared for delivery.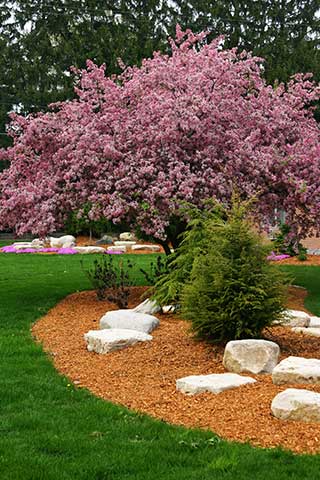 For best results, spread new mulch when it will by sunny and dry for 24-72 hours.
Frequently Asked Questions
Below are answers to the questions we hear most often from our customers. We are glad to answer others. Just give us a call at 203-790-1155.
How much mulch should I apply?
We recommend that you use 3″ of mulch cover. One cubic yard of mulch will cover approximately 100 square feet 3″ deep. Please use the mulch calculator at the bottom of the page to calculate your mulch needs.
Are the colorants safe for my plants and animals?
Yes! Our colored mulch is safe. It is a natural wood that is dyed using raw materials made from naturally occurring colors found in the earth's surface. These pigments, as well as the other ingredients used, are specially formulated to be nontoxic to plants and animals. We do not treat our mulches with harmful chemicals.
Will the colored mulch last throughout the season?
The color's longevity will depend on the amount of rain and sun exposure on the product. For best results we recommend spreading mulch on a sunny day allowing it to dry for 24-36 hours in dry or sunny weather. As months pass through the season, you can freshen the color of your mulch by turning it with a rake to expose the mulch that has not been in direct contact with the elements.
What are the benefits of mulching? Are there any detrimental effects?
There are no detrimental effects from proper mulching. In fact, mulch will actually help your plants grow better!
Mulches prevent loss of water from the soil by evaporation.
Mulches reduce the growth of weeds when the mulch material itself is weed-free and applied deeply enough to prevent weed germination or to smother existing weeds.
Mulches keep the soil cooler in the summer and warmer in the winter, thus maintaining a more even soil temperature.
Mulches prevent the trunks of trees and shrubs from damage by lawn equipment.
Mulches help prevent soil compaction.
Mulches can add to the beauty of the landscape by providing a cover of uniform color and interesting texture to the surface.
Mulched plants have more roots than plants that are not mulched, because mulched plants will produce additional roots in the mulch that surrounds them.
What does ordering "bulk" mulch and "wholesale pricing" mean?
When you purchase at least 65-75 yards of mulch and its brought to your location in one delivery, you are ordering in bulk. Orders of this size or larger allow us to offer you wholesale pricing, which is less per yard than when ordering smaller quantities.
Does the price include delivery?
No, the price of our mulches and soils does not include delivery fees. Delivery charges are based on the distance from our location to yours and the amount of mulch you are ordering. Please call us for the delivery fee to your area.
Can I pick up my order myself?
Absolutely! If you prefer, you can pick up your mulch at our location. We sell it by the yard (1 yard minimum), and we will load it into your truck. The average truck holds 1-2 yards of mulch. Each yard weighs approximately 800-1000 lbs.
What are "tipping fees?"
"Tipping fees" are a price per yard that is charged to you when you drop off forest products such as leaves, stumps, brush and logs.