Delivery is available depending on location and order size. Bulk pricing available over 65 yards. Call us at 203-790-1155.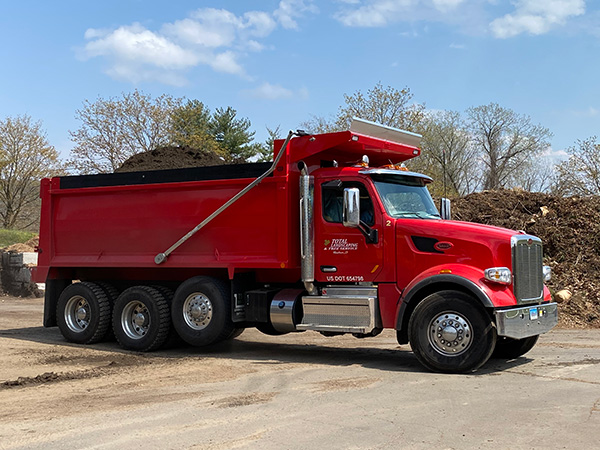 Our tri-axle trucks deliver up to 50 yards.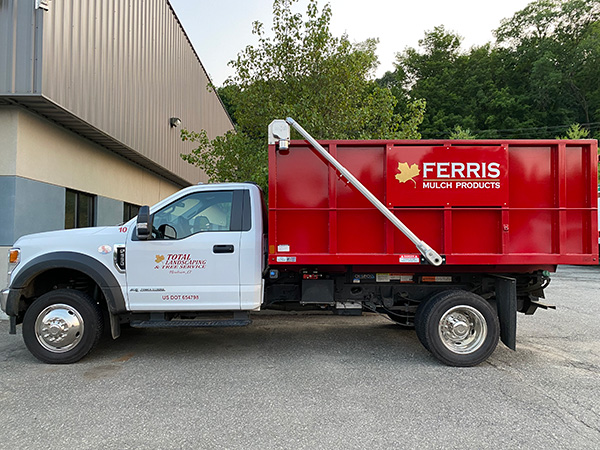 Our smaller trucks deliver up to 10 yards to your home.
Mulch, Topsoil and Compost delivery – Bulk & Wholesale
Delivery is available Monday through Saturday throughout Connecticut for all of our mulch and soil products. We also deliver to surrounding towns in New York and Massachusetts.
Pricing for Mulch, Topsoil and Compost Delivery
Delivery prices are dependent on the amount of your purchase and the distance to your drop-off location. We offer bulk pricing on orders of 65 yards and over with our 45′ walking floor trailers.
Plan Ahead!
It's a good idea to have the material arrive on a weekday if you're planning a weekend project. Saturdays can be extremely busy, if you must have a Saturday delivery please book it early. Placing a large tarp down where you want the material dumped can facilitate the drop for us and the clean up for you!
Please note — Our drivers are responsible for a safe delivery – your safety and ours. They will try to accommodate your request to drop material at your desired location. However, it is their job to make you aware of possible dangers such as overhead power lines or tree limbs, septic fields, soft or wet ground, etc. Please consider these obstacles (and maybe others) when choosing your drop location. The drop is at their discretion. If it is not feasible, they will ask for an alternate drop site. We do not drive on any lawn areas with our vehicles, our delivery trucks must stay on a hard driveway surface. We hope this information helps you. Thank you for your cooperation.
A fuel surcharge may be applied to all orders.
Please call 203-790-1155 or eMail us for additional information and specific delivery pricing.